Bodyweight Training Journeys
Freeletics Bodyweight Journeys are personalized training plans which are designed to help you achieve a specific fitness goal: Get started with training, lose weight, get fit, or gain strength. Each Journey provides a different focus on cardiovascular and/or muscular endurance. Freeletics workouts target the entire body to ensure total body fitness using bodyweight-only exercises with the option to add equipment. The Coach will recommend a Journey that best suits your main goal, current fitness level and personal characteristics such as age, weight, and height. Once you choose a Journey, you will have the option to select your preferred number of training days per week, add equipment, and enable runs. The overall goal of each Journey is to gradually increase the intensity of the workouts and help you to achieve new Personal Bests (PBs). Depending on your Journey, your training sessions will include a mixture of technique training, individualized intervals and high intensity God workouts.
Get Started
Journeys designed for beginners and Free Athletes with a lower fitness level.
15 min Fitness (M) (F)
Cardio* Muscle* - 24 Sessions
In this Journey, the Coach will assign you workouts that can be completed in 15 minutes from warmup to cooldown. These will be short, yet intense workouts. 15 minute workouts doesn't mean "no sweat." You are expected to go all out to get the most out of your session.
Start Strong (M) / Start Smart (F)
Cardio* Muscle* - 18 Sessions

Designed for those with limited training experience, as well as Free Athletes looking to get back into their training routine after a long break. These 6 week training plans are a great way to get familiar with Freeletics exercises and movements by focusing on Interval trainings to build endurance and strength.
Fit For Life (M) (F)
Cardio** Muscle** - 18 Sessions
The goal of this Training Journey is to help you feel younger and more active by mastering the basics of Freeletics. With a focus on endurance and stability workouts, this 6 week plan will help you improve your overall fitness using lower impact exercises with less emphasis on time. We recommend enabling Runs to help with recovery.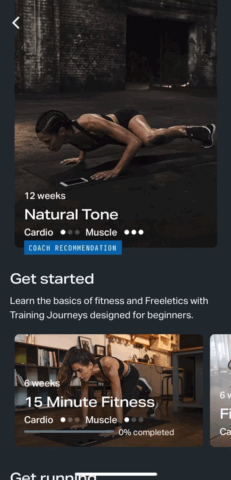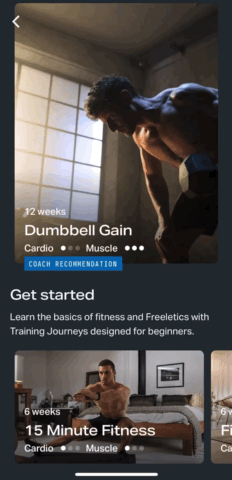 Fitness Goal - Lose Weight
For Free Athletes of all fitness levels looking to lose weight.
Cardio Burn (M) / Calorie Burn (F)
Cardio*** Muscle* - 48 Sessions

Workouts containing technically easier exercises with a high amount of repetitions. This is very much a cardio and endurance based training plan suitable for new or returning Athletes with a lot of excess weight looking to make a lifestyle change.
Balanced Burn (M) / Balanced Fat Burn (F)
Cardio** Muscle** - 48 Sessions
Expect to experience both cardiovascular and muscular fatigue while being introduced to more challenging movements. More repetitions of easier exercises and less reps of more challenging ones to help you achieve your weight loss goals.
Shred & Burn (M) / Tone & Tighten (F)
Cardio* Muscle*** - 48 Sessions
This plan will test your strength limits on your way to lose the last bit of belly fat and work towards achieving a six pack. More challenging exercises with a lower number of repetitions. Also explosive strength exercises. Fitness will be challenged occasionally with high intensity training. Access to a pull-up bar is recommended.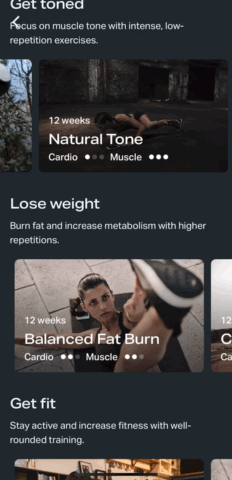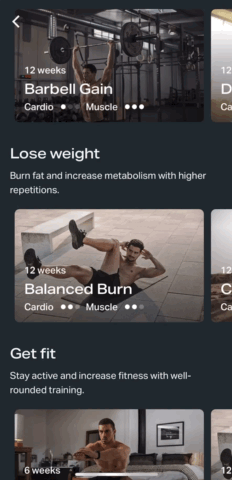 Fitness Goal - Get Fit
Recommended for Free Athletes with some level of sport background or training experience looking to improve their overall fitness.
Legs, Curves & Core (F)
Cardio** Muscle** - 48 Sessions
This 12-week, bodyweight only Training Journey is designed exclusively for women. The purpose of this Journey is to help you develop a strong and powerful lower body by focusing on exercises that specifically target the legs, glutes and core. You will be assigned intense, high-repetition intervals and Gods that will help you sculpt a toned and defined figure.
Strength & Stamina (M) /
Full-Body Fitness (F)

Cardio** Muscle** - 48 Sessions

This plan offers a high variety in the types of assigned training. A combination of intense cardio and strength based workouts made to stimulate all parts of the body throughout the training week. This gives you the opportunity to develop overall fitness and maintain a healthy lifestyle.
Everyday Strength (M) / Fit & Toned (F)
Cardio* Muscle*** - 48 Sessions
For Athletes looking to test their strength limits with technically challenging movements. You will be assigned workouts with low repetitions mixed with explosive strength exercises. Your fitness will occasionally be challenged with high intensity training. A pull-up bar is highly recommended for this Journey.
Freeletics Hardcore (M) (F)
Cardio*** Muscle*** - 35 Sessions
This Journey is for advanced and experienced athletes looking to be physically and mentally challenged. Expect intense, exhausting, and technically advanced sessions centered around our signature God Workouts. Due to the high intensity of the first 7 weeks, the final week is a deloading period which contains easier workouts to help your body recover and ensure a healthy transition to your next Journey. A pull-up bar is mandatory for this Journey.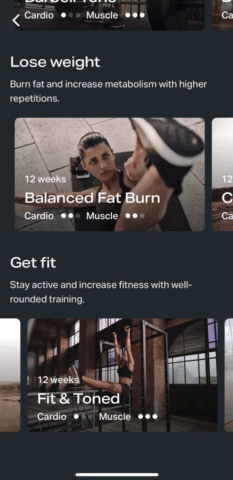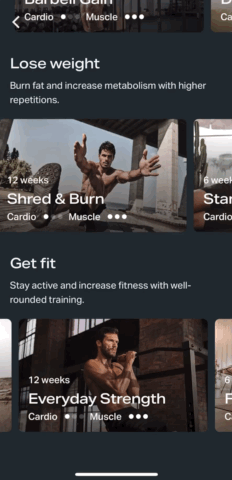 Fitness Goal - Gain Strength
For Free Athletes with a fitness goal of improving their physical strength and athletic appearance.
Explosive Strength (M) / Slim & Toned (F)
Cardio** Muscle** - 48 Sessions
A strength-based plan, which incorporates a combination of technically and physically challenging exercises mixed with intense cardio intervals. A pull-up bar is highly recommended for this plan.
Weights Free Gain (M) / Natural Tone (F)
Cardio* Muscle*** - 48 Sessions
This plan's focus is to increase strength and test your physical limits. Perfect for Athletes wanting explosive, strength-based exercises where you will struggle to complete the last repetition. Pull-up bar is highly recommended.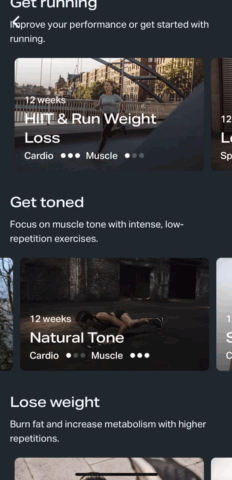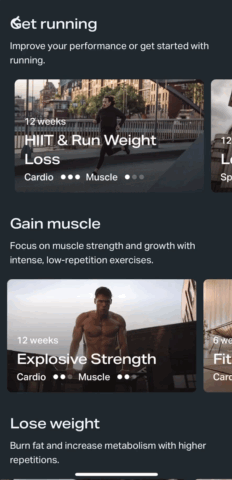 If you are interested in a different training modality, have a look at the Running and Weights Journeys.