Adjust your Running Journey preferences
The Coach preferences are your general workout settings you select before starting a Training Journey. All upcoming training sessions are created based on your preferences. You can adjust these at any time by clicking on the settings icon at the top right corner of the Coach tab.
You also always have the ability to adapt your current training session without changing your overall preferences, using the Adapt Session feature.
Please note that if you are doing a HIIT & Run Weight Loss Journey, the below only applies to your Running sessions. You will be able to adjust more settings but these will only apply to your Bodyweight sessions. To see these Bodyweight settings please take a look at this article.
Navigate this page to learn about the following:
Training days this week
In your Coach settings you can choose to train from 2 to 5 times each week. You can change your preferences at any time and your settings will be adjusted immediately. If you are unable to complete your Coach session on the scheduled day it will automatically move to the next calendar day. Please note that your session will be saved on the date it is completed. When you wish to train on a rest day, you can select and start your next scheduled Training session. You should aim to be consistent with your training for maximum results.
Include/Exclude equipment
You can activate and deactivate any of the following equipment according to your preferences:
Jump Rope
Foam Roller
Stick, Towel or Cord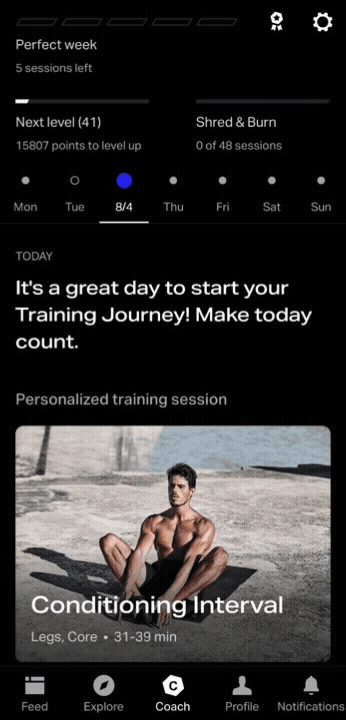 Exclude exercises
In order to exclude certain exercises from your Training Journey you can use this function. You are able to exclude up to 10 exercises. We recommend that you include as many exercises as possible in your Training Journey in order to get the most varied and comprehensive training experience.
You are always able to access any exercises you excluded in your Coach tab on the current day by tapping on "Single exercises".