The Daily Athlete Score (DAS)
What is the Daily Athlete Score?
The Daily Athlete Score is our own personalized measurement of your daily fitness level. It takes into account not only the various aspects of your performance but also how consistent you are with your training. The DAS analyzes your training over the past three months, giving you a near real-time status of your fitness across multiple measurements. The DAS takes Coach sessions and any other logged trainings or runs into account, helping to further personalize your future Coach sessions.
Where can I find my Daily Athlete Score?
You'll find your DAS by clicking on the Profile tab at the bottom of the Freeletics app.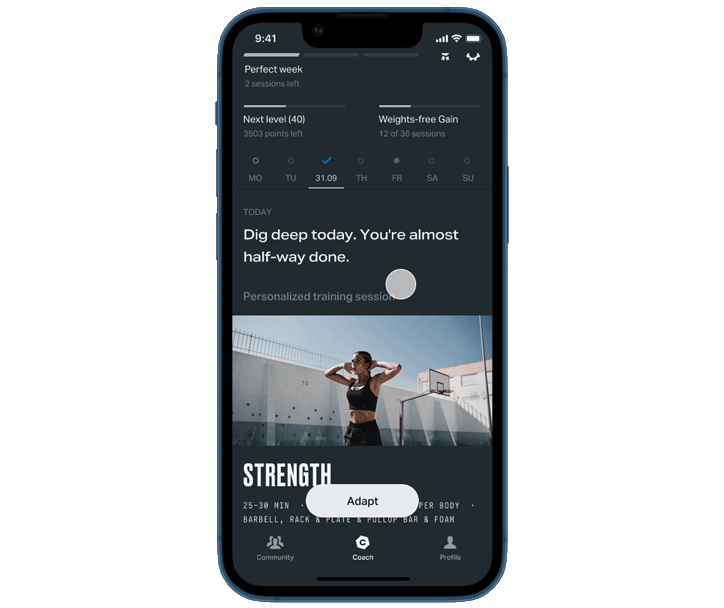 By checking your DAS and the score breakdown in your profile, you can understand where you're performing well vs. many other Free athletes, and which areas could use improvement.
Remember: The purpose of the DAS is not to aim for a score of 100 on each metric every day. Your goal should be to improve (gradually) and have an optimal score for each metric. It's not unlikely that improving one area will marginally affect another – positively or negatively.
The dynamic calendar visualization helps you to understand how consistent you've been with your scheduled workouts.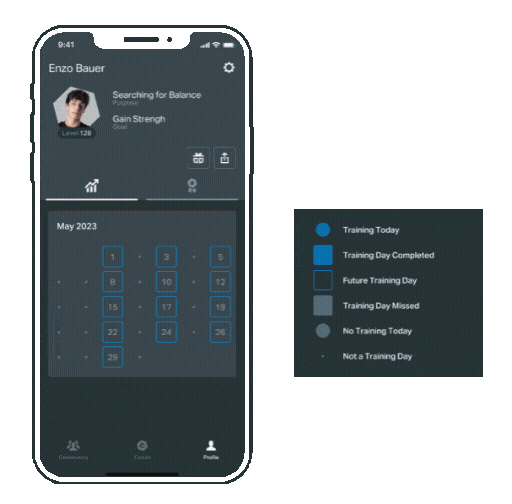 Blue indicates your training days; a circle for today's session and a square for completed sessions. Future training days are marked by an outline.
Gray tells you when you don't have to train; a circle for today and a dot for other days. A gray square marks which previous training days you missed.
How is the Daily Athlete Score calculated?
Consistency compares the number of planned training days in a week to the actual number of training days completed during that week.
Skill considers perceived technique and is calculated based on the answer given to the feedback prompt "How was your technique?".
Stamina is the ability to sustain prolonged physical effort. The score is based on the number of repetitions performed within a set.
Speed is based on the average speed of completing God and Running workouts
Strength is based on the most common Bodyweight exercises (maximum repetitions performed within one set) and Weight exercises (1 rep max: estimated maximum amount of weight lifted in 1 repetition).
How can I improve my score?
As the DAS is made up of two key levers (consistency and performance), the first way to improve your score is by improving your consistency by always training on the Coach days you selected in the Coach settings. You can also improve your score by improving the different performance metrics (skill, stamina, strength, and speed).
As there are so many elements (beyond age, gender or even injury, sickness, and menstrual cycles) that make us different, we should all use the score to encourage ourselves to progress and be better than yesterday.